Composer/Arranger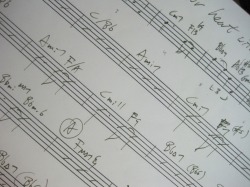 Kim Portnoy is recognized as a versatile composer in classical and jazz idioms. His
compositions have been featured nationally and internationally at the Eastman Summer Trombone Institute in Rochester, New York; the Choral Music Experience Institute in Arvika, Sweden; the Guitar Foundation of America Conference at Oberlin Conservatory of Music in Ohio and two International Association of Jazz Educator's conferences: New Orleans and Atlanta.
Carl Fischer publishes his compositions.
Kim received an Artist Fellowship from the Regional Arts Commission for 2018. He is the recipient of two Fiscal Year Creative Artist Project Awards from the Missouri Arts Council and a grant from the Thomas Talbert Foundation. He has received commissions from the United States Air Force Band of Mid-America, the piano team Duo Albireo, The Original Boneheads trombone quartet, The Missouri Music Teacher's Association, the St. Louis Children's Choirs and the McDonnell Planetarium.
He has worked with St. Louis Symphony concertmaster David Halen and jazz vocalist Erin Bode as pianist and arranger. The Florida Space Coast Orchestra, the Jacksonville Symphony Orchestra and the Webster Symphony have also performed his arrangements.
---